Our apologies but this property has had a name change. You'll be redirected to the new page in a few seconds or you can click
APX Apartments Darling Harbour
Note: The details below are no longer valid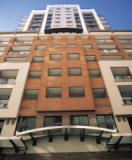 Quest on Dixon Apartments
Darling Harbour
Long Stay Corporate Apartments
near Chinatown, Sydney




8 Dixon Street Darling Harbour, Sydney NSW Australia
| | |
| --- | --- |
| | |
| Studio Apartment- Quest on Dixon Darling Harbour | Studio Apartment - Quest on Dixon Darling Harbour |
Nestled between exiting Chinatown and Darling Harbour, Dixon Darling Harbour is a comfortable serviced apartment hotel close to Sydney's main entertainment and tourist districts.
Well-priced open-plan studio apartments and one bedroom apartments offer long-term visitors to Sydney well located, self-catering facilities and as well all the eating choices of Chinatown, the Spanish Quarter, Darling Harbour and King Street Wharf minutes walk from the hotel.
This hotel is also close to the Sydney Convention and Exhibition Centre, Sydney Entertainment Centre as well as Imax Theatre, Wildlife World, Aquarium and Chinese Gardens.
Corporate travellers with business in the Chinatown end of Sydney may find the Quest Apartments on Dixon Darling Harbour to be a comfortable, well-priced, short-term option for their extended stay in Sydney.
Property Facilities & Services
Baby sitting service
Broadband Internet Access
Disabled facilities
Faxing facilities
internet access
Laundry facilities
Lift
Parking facilities (at cost)
Photocopying facilities
Safe deposit box at Reception
Safe deposit box
Sprinkler in halls, room and public areas
Tour desk
Sprinkler in Halls
Sprinkler in Rooms & Public Areas
Room Windows Open
Multiple Fire Exits on Each Floor
Smoke Alarm in Halls
Apartment Facilities & Services
Closet
Air Conditioning
Balcony (subject to availability)
CD & DVD Player
Clothes Press
Clock Radio
Coffee maker/tea
Direct Dial in Room
Hair Dryer in room
Iron/Ironing Board in room
Internet Access
IDD Phone with Voicemail
Microwave
Refrigerator in room
Remote Control TV in room
Smoke Detector
Stereo System
Tables/Chairs
Work desk with lamp in room.
Extended Stay Room Rates from $1036 per week
Rates are based on a minimum stay of 28 nights.
Apartments
Configuration
Max
Guests
Nightly Rates

Studio Apartment
Queen Bed
2
One Bedroom Apartment
Queen Bed
3
Rates are as a guide only and may vary depending on the length of stay and time of year.
Weekly rates include weekly house-keeping service.
Long Stay Booking, Charge and cancellation Policy:
A deposit equal to 10% of the full stay will be charged at the time of making the booking.
This amount is non-refundable if the stay is shortened or cancelled for any reason.
The remaining 90% of the accommodation costs will be paid directly to the hotel during your stay.
Cancellations within 48 hours of booked arrival will incur an additional fee equal to the cost of the first nights accommodation.
By proceeding with the booking it is understood the the above conditions have been accepted.
Optional Extras:
Extra Guest:

A$40/night for each additional guest up to the maximum - A$25 pp/pn (for 8 to 27 nights) A$15 pp/pn (for 28+ nights). An Infant Cot can be provided free of charge.

Parking:

Secure Underground Parking is available at approx A$40 /day.
All rates are in Australian dollars and are inclusive of GST (tax)
All prices quoted are low season prices unless otherwise indicated
Prices and Conditions may vary without notice.
Rates and conditions as confirmed at the time of booking will prevail.