Our apologies but this property has had a name change. You'll be redirected to the new page in a few seconds or you can click
APX Apartments Darling Harbour
Note: The details below are no longer valid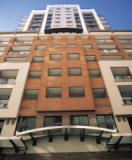 Quest on Dixon
Darling Harbour
4 Star Serviced Apartment
Hotel Accommodation
Darling Harbour Sydney
8 Dixon Street Darling Harbour,
Sydney NSW Australia




Quest on Dixon Serviced Apartments, Darling Harbour are located in Sydney's vibrant Chinatown and only minutes walk to all the excitement of Darling Harbour.
The range of self-catering studios and One Bedroom Apartments provides comfortable self-contained apartment living in the city centre for travellers to Sydney on business or hear to indulge in the many tourist delights Australia's most dynamic city has to offer visitors to Sydney. For those requiring accommodation near to the Sydney Exhibition and Convention Centre or to be near any of the small businesses around the Chinatown or Central Station end of the city, Quest on Dixon provides the space to unpack and prepare for Business. Further the self-catering aspect of the hotel offers the opportunity to prepare some meals in the apartment and keep control of the travel dollar
Quest Apartments on Dixon Darling Harbour is a reasonably priced inner city lodging option for your stay in Sydney with kitchenettes, air-conditioning, living area and balcony. Parking is also available at extra charge.
Property Facilities & Services
Baby sitting service
Broadband Internet Access
Disabled facilities
Faxing facilities
Internet access
Laundry facilities
Lift
Parking facilities (at cost)
Photocopying facilities
Safe deposit box at Reception
Safe deposit box
Sprinkler in halls, room and public areas
Tour desk
Sprinkler in Halls
Sprinkler in Rooms & Public Areas
Room Windows Open
Multiple Fire Exits on Each Floor
Smoke Alarm in Halls
Room Facilities & Services
Closet
Air Conditioning
Balcony (subject to availability)
CD & DVD Player
Clothes Press
Clock Radio
Coffee maker/tea
Direct Dial in Room
Hair Dryer in room
Iron/Ironing Board in room
Internet Access
IDD Phone with Voicemail
Microwave
Refrigerator in room
Remote Control TV in room
Smoke Detector
Stereo System
Tables/Chairs
Work desk with lamp in room
Executive Studio Apartment
Quest on Dixon Darling Harbour
Executive Studio Apartment
Quest on Dixon Darling Harbour
Apartment Bathroom
Quest on Dixon Darling Harbour
Hotel Reception
Quest on Dixon Darling Harbour
Rooms and Rates
Apartment
Configuration
Max
Guests
Nightly Room
Rates from:
Standard Studio Apartment
1 Queen Bed
2
Executive Studio Apartment
1 Queen Bed
3
One Bedroom Apartment
1 Queen Bed
3
Quest on Dixon Darling Harbour - Additional Information
Extra Adults:

1 bedroom apartments include a sofa bed. There's an additional charge for 1 extra guest using sofa bed of $45..

Infants:

An Infant Cot can be provided free of charge

Cleaning:

Apartments are cleaned daily (except Sundays and public holidays)

Internet:

High Speed Internet is available (costs apply)

Meals:

Breakfast Packs may be bought and charge back is available from some local restaurants

Parking:

Nearby parking is available ($40/night).

Transfers:

This Hotel does not provide Airport Transfers. A taxi from the Airport will cost approximately A$50.

Reception Hours:

Reception is open Mon-Fri 7am-11pm --- Sat and Sun 8am-8pm.

Check-In:

Rooms are guaranteed available from 2pm on the day of arrival. Early arrival can be requested but not guaranteed.
Please check here for Quest On Dixon: New Year availability and rates