Our Apologies but we are no longer taking bookings
for this property. Please make another selection.
Note: Details below are no longer valid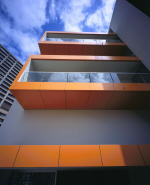 150 Serviced Executive Apartments
Executive Apartments Across
Hyde Park from Sydney CBD




150 Liverpool Street, Sydney
N.S.W. 2000, Australia
MAKE AN ENQUIRY


FOR 150 APARTMENTS
MAKE A BOOKING REQUEST


FOR 150 APARTMENTS
150 Apartments offer Two Bedroom + Study apartments designed by renowned architects Engelen Moore. The development is known simply as '150'. Located at the top end of Liverpool street, Darlinghurst, the apartments overlook Oxford Street from oversized balconies on one side, with district outlooks from the balcony on the other side of the apartment. Apartments are two story open plan and spacious within, with large double height lounge/dining areas. Interiors are sleek minimalist, with top quality furnishings (i.e. white leather Barcelona chairs, Florence Broadhurst wallpaper features, etc) individually appointed for each apartment by an interior designer.
Apartment Types: 150 Apartments in Sydney offers the Silver Class Studio with a Sofa Bed, one bathroom, one terrace and is 60sqm in size. The Gold Class Two Bedroom features a Double + King OR Double + 2 Single, two bathrooms, two terraces and is 150sqm in size. The Platinum Class Two Bedroom features a Double + King OR Double + 2 Single. The Platinum Class Two Bedroom apartment is larger than the Gold Class Two Bedroom (160sqm in size) and although has only one bathroom and one terrace (where the Gold Class has two bathrooms and two terraces) it enjoys a better position within the building.
Property Facilities & Services
Restaurant chargeback service with local restaurants
Affiliations with top Sydney restaurants and bars, including Hugo's Lounge, meaning discounts and specials for clients...VIP service
Fine dining restaurant, cafe, mini supermarket, perfumery, bottle shop in building.
Internet cafe opening soon in buildings retail strip
Right on Oxford street, point blank view of Oxford street.
Within one minute to FedEx Kinko's, Hyde Park, Bars, clubs, restaurants, swimming pools and gyms, banks, money exchange, IGA supermarket, all the shops Oxford street has to offer.
Public transport at doorstep
Apartment Facilities & Services
2 large bedrooms, double bed in each bedroom
Full built in wardrobes in each bedroom
2 large bathrooms, one with oversized shower, the other with shower and bathtub
Large fully fitted out kitchen with every necessary utensil including microwave, dishwasher, oven, kettle, toaster, large fridge/freezer
27" LCD flat screen remote TV
DVD/CD home theatre system
Free CD and DVD library
Free Broadband
Separate full size office with fax/print/copy machine
Complimentary Local Phone Calls
Full laundry in each apartment with iron and ironing board
BBQ on terrace in each apartment
Free security onsite parking
Full security building
Hairdryer
Alarm clock
Non smoking inside apartments
Welcome hamper including artisan coffees, teas, biscuits and chocolates (for stays of two days or longer)
Milk in fridge
Top floor apartments with lift in building
Living Room
150 Service Apartments
Bedroom
150 Service Apartments
Kitchen
150 Service Apartments
Loft Living Room
150 Service Apartments
Rooms and Rates:
Apartments
Configuration

Max Guests

3+ Nights
Premium Two
Bedroom
1 Double + King OR 2 Single Beds.
2 Bathrooms. 2 Terraces. 150 sqm
4
Superior Two
Bedroom
1 Double + 1 King OR 2 Single Beds.
2 Bathrooms. 2 Terraces. 150 sqm
4
MAKE AN ENQUIRY


FOR 150 APARTMENTS
MAKE A BOOKING REQUEST


FOR 150 APARTMENTS
Optional Extras and Conditions:
There are NO one-night stays at this property
Please apply for further Discounted Rates available for stays of 7+ nights
Booking Charge and Cancellation Policy:
A non-refundable 10% deposit of the Total Cost will be charged at the time of booking.
The remaining 90% cost of the stay is to be paid weekly in advance.
During the stay these amounts are not refundable if the stay is shortened or cancelled for any reason.
7 days notice is required for any Cancellation or to shorten the stay.
Cancellation more than 7 days prior to booked arrival will incur no
All rates are in Australian dollars and are inclusive of GST (tax)
All prices quoted are low season prices unless otherwise indicated
Prices and Conditions may vary without notice.
Rates and conditions as confirmed at the time of booking will prevail.