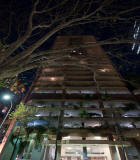 The York Apartment Hotel
by Swiss-Belhotel
Free Parking for Extended Stay apartments in Sydney City Centre




5 York Street Sydney N.S.W. 2000 Australia
| | |
| --- | --- |
| | |
| Studio - The York Apartment Hotel | One Bedroom Apartment - The York Apartment Hotel |
| | |
| Bathroom - The York Apartment Hotel | Studio Apartment - The York Apartment Hotel |
Located close to Wynyard Subway Station, The York Apartment Hotel has long been the apartment choice of extended stay business travellers who need to be in the financial and banking part of Sydney's downtown region.
The executive style apartments are rated 4.5 star and provide a range of fully serviced open plan Studio, One Bedroom Apartments and Two Bedroom Apartments - each with fully equipped kitchen, balcony, living area, high speed internet, internal laundry, air-conditioning and basic Foxtel channels.
All Deluxe Apartments have been recently refurbished and are designated as non smoking. The Standard rooms have not been recently refurbished and are sometimes let as smoking apartments. As well as providing overnight apartment lodging for visitors to Sydney, they York offers good rates for business travellers needing to be close to their city offices as well as to the tourist to Sydney requiring self-contained apartment living in the centre of Sydney.
For long stays of 4 weeks or longer, the York will frequently offer free parking or free internet to their extended stay guests.
The apartments are well served by public transport placing most of Sydney within access of this centrally located hotel. Circular Quay Ferry Terminal give access to many harbour front locations via Sydney Harbour and is just a walk away from the hotel as is Wynyard Train Station and bus terminals.
The York Apartments are definitely worth consideration when pondering where to stay in Sydney for an extended executive rental.
Property Facilities & Services
In-room dining/room service Pool, sauna, spa & gymnasium Goshu Ramen Tei
Noodle Bar
Condor Japanese Noodle Bar
Valet Service
Facsimile facility
Foreign Exchange
Babysitting Service
Car Hire
Tourist Information
24 hour reception
Close to all modes of transport
Electronic Door Locks
Foxtel TV - 8 Channels
Video Hire available
Apartment Facilities & Services
Individual decor
Individual reverse cycle air-conditioning
In-room safe
Bathroom with bath & shower
Private laundry facilities
Private balconies
Direct in-dial telephones
Voicemail
Dial up internet is available in your room if using with own laptop computer
Fully self contained kitchen
Daily room attendant service
LONG STAY ROOM RATES
Rates are based on a minimum stay of 28 nights.
Apartments
Configuration
Max
Guests
Nightly Rates

Studio Apartment
Queen Bed
2
from A$170


1 or 2 guests

One Bedroom Apartment
Queen Bed
3
from A$170


2 or 4 guests

Two Bedroom Apartment
Queen + Double Bed or Queen + 2 Single Beds
from A$170
Rates are as a guide only and may vary depending on the length of stay and time of year.
Weekly rates include weekly house-keeping service.
Free Parking for 1 car or Free Broadband Internet with stays of 4 weeks or longer. Some exclusions apply
Long Stay Booking, Charge and Cancellation Policy:
A 28 night minimum stay at the York Apartments, on long stay rates.
A non-refundable Deposit equal to 10% of the Total Cost of Accommodation will be charged at time of booking.
The cost of the remaining 90% of the first weeks stay will be charged at check-in.
The balance of stay will be payable monthly in advance.
These amounts, once charged are not refundable if the stay is cancelled or shortened for any reason.
If the booking is cancelled or shortened within 72 hours of booked arrival, the cost of the first week will be charged as a cancellation fee.
This amount is on top of the 10% deposit.
By proceeding with the booking it is understood the above conditions have been accepted.
Optional Extras and Additional Information
Extra Guests:

Rates given for the number of guests indicated, up to the maximum. Add A$50 per night for the use of the Sofa Bed. A cot or highchair can be provided at no further charge.

Internet:

Wireless modem can be provided for A$8 per hour, A$24 per day or A$89 per week. WiFi - Lobby / Business Centre A$5 per hour (starts at Lon in) OR A$15 per 60 minutes (can log in and out at any time over 24 hour period).

Parking:

Secure Parking is available at approx A$30 per night (single entry).

Credit Card Fees:

The York Apartment accept Visa, MasterCard and American Express (do not accept Diners Club). 3% service fee of Amex applies.
All rates are in Australian dollars and are inclusive of GST (tax)
All prices quoted are low season prices unless otherwise indicated
Prices and Conditions may vary without notice.
Rates and conditions as confirmed at the time of booking will prevail.