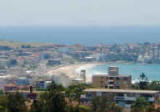 Waldorf Budget Apartments Bondi
Budget Serviced Apartments Bondi



212 Bondi Road, Bondi, Sydney
N.S.W. 2026 Australia
Bondi Serviced and Furnished Apartment offers inexpensive travellers apartment accommodation for 2 people at less than the cost of a hotel room. Bondi Serviced Apartments are located in a central Bondi location and within 1km or 20 minutes walking distance from the internationally famous Bondi Beach.
The budget Waldorf Serviced Apartments at Bondi are located on a public transport route to the city and within 1km of Bondi Junction railway station. So while enjoying the relaxed lifestyle you are only 20 minutes away from all the attractions of central Sydney.
A large selection of Bondi's famous coffee shops, restaurants, shopping & markets, pubs & entertainment venues are within easy walking distance from our doorstep.
Bondi Beach is one of Australia's most celebrated beach and tourist destination and Bondi Serviced apartments prime location provide travellers with budget apartment-style accommodation that best suits the young traveller..
Property Facilities & Services
Communal laundry
Spacious storage areas.
Rooftop pool with sweeping views
Apartment Facilities & Services
Balcony
Dining area (seating for two)
Air-conditioned
Fully equipped kitchens
Colour TV
Clock-radio
Direct dial telephone
Voice-mail
Limited on-site security car parking is available for an additional daily/weekly charge.
Desk - Waldorf
Apartments Bondi
Kitchen - Waldorf
Apartments Bondi
Bedroom - Waldorf
Apartments Bondi
Rooms and Rates - Waldorf Budget Apartments Bondi
Apartments
Configuration
Max
Adults
Nightly Rate
Studio Apartment
1 Double Bed
2
from A$110 p/n
1 or 2 guests
Optional Extras and Conditions:
A three (3) night minimum stay is required at this property
The Standard Studio Apartments have been renovated in the last several years and are on higher floors (some have distant ocean views).
All rates are in Australian dollars and are inclusive of GST (tax)
All prices quoted are low season prices unless otherwise indicated
Prices and Conditions may vary without notice.
Rates and conditions as confirmed at the time of booking will prevail.